The world has "reached the moment of truth" on the ongoing global refugee crisis, UN High Commissioner for Refugees António Guterres said on Saturday in a statement to mark World Refugee Day.
"World stability is falling apart leaving a wake of displacement on an unprecedented scale. Global powers have become either passive observers or distant players in the conflicts driving so many innocent civilians from their homes," he said.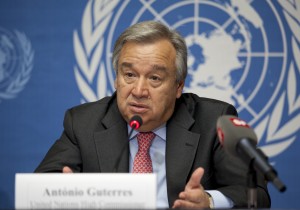 His words come on the back of a sobering picture painted by the UNHCR Global Trends report, which revealed that last year almost 60 million were forced to flee their homes due to war conflict or persecution, more than any ever recorded. Half of them were children.
"Around the world, almost 60 million have been displaced by conflict and persecution. Nearly 20 million of them are refugees… Their numbers are growing and accelerating, every single day, on every continent," he said.
Guterres, who earlier in the week travelled to the Turkey-Syrian border to witness Syrians fleeing the latest upsurge of fighting into southern Turkey, remained there to mark World Refugee Day as a gesture of support.
The country which last year took over from Pakistan as the biggest refugee-hosting nation in the world, largely as a result of conflict in Iraq and Syria, where the war has entered its 5th year.
Turkey now hosts more than 2 million refugees and spends more than US$6 billion on helping Syrians alone.
"Fifteen years into a millennium that many of us hoped would see an end to war, a spreading global violence has come to threaten the very foundations of our international system," Guterres added.
Stressing the grim statistics, he said that in 2014, an average of 42,500 people every day became refugees, asylum-seekers or internally displaced.
"That is four times more than just four years ago. These people rely on us for their survival and hope. They will remember what we do," he said.
The head of the UN refugee agency, who has previously warned the scale of the current crisis was overwhelming international humanitarian organizations, said some countries most able to help were instead shutting their gates to people seeking asylum.
"Borders are closing, pushbacks are increasing, and hostility is rising. Avenues for legitimate escape are fading away. And humanitarian organizations like mine run on shoestring budgets, unable to meet the spiralling needs of such a massive population of victims," he said in another dire warning.
Only last week, Italy and France were at loggerheads over the latter's decision to step up controls at the border pushing back migrants to the Italian town of Ventimiglia. A few days later, EU interior ministers failed to agree on a proposal by the European Commission to distribute across the bloc 40,000 Syrian and Eritrean refugees from Italy and Greece, which this year so far have already seen more than 100,000 migrants land on their shores.
Throughout the ages, refugees have been considered worthy of protection, Guterres said but lamented that: "Today, some of the wealthiest among us are challenging this ancient principle, casting refugees as gate crashers, job seekers or terrorists. This is a dangerous course of action, short-sighted, morally wrong, and – in some cases – in breach of international obligations."
"It is time to stop hiding behind misleading words. Richer nations must acknowledge refugees for the victims they are, fleeing from wars they were unable to prevent or stop," he concluded.
But Guterres also focused his attention on the cause of most of this displacement, calling on those with leverage over the protagonists in the wars that have broke out over the past years, to "put aside their differences and come together to create the conditions for ending the bloodshed".
"In the meantime, the world must either shoulder collectively the burden of helping the victims of war, or risk standing by as less wealthy countries and communities – which host 86 per cent of the world's refugees – become overwhelmed and unstable," he said.
Meanwhile, decades-old instability and conflict in Afghanistan, Somalia and elsewhere means that millions of people remain on the move or – as is increasingly common – stranded for years on the edge of society as long-term internally displaced or refugees.
One of the most recent and highly visible consequences of the world's conflicts and the terrible suffering they cause has been the dramatic growth in the numbers of refugees seeking safety through dangerous sea journeys, including on the Mediterranean, in the Gulf of Aden and Red Sea, and in Southeast Asia.