Italy has received more than 9,000 child asylum seekers in the first six months of this year. An uncounted number of them will just disappear from the system.
 Children as young as nine years old leave reception centres days after arriving to avoid fingerprinting. Their mission is usually to reunite with relatives or to start working as they are pressured from their family to send money back home.
What happens to them is a mystery, but there are persistent reports of abduction for exploitation. Italy's commissioner for missing persons, Vittorio Piscitelli in April crystallised the suspicion that they could end up in the hands of human traffickers, or groups of pedophiles or organ traffickers.
With the number of unaccompanied minors remaining steady so far this year, the problem is likely to grow. Of the 77,100 migrants who landed in Italy in the first six months of this year, 8,200 were minors and 4,700 unaccompanied, according to the Italian Social Policy Ministry.
The problem is that the children in Italian centres can leave whenever they want to and often that is exactly what they do, Giovanna Di Benedetto from the international NGO Save the Children told Migrant Report.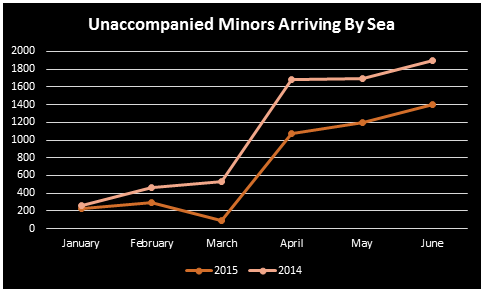 "They simply can't survive alone, as they don't have any money, documents to work or families to support and take care of them. They run a big risk leaving the reception centres".
The NGO or any of the organisations running the centres do not have the power to stop the children.
Di Benedetto did not offer an opinion on whether they should be given this authority. However, she pointed to recent proposals for legislation made by Save the Children to the Italian government. Essentially, the idea is to expand on a system known as SPRAR nationwide at least for the treatment of unaccompanied minors.
The SPRAR project offers migrants accommodation in small facilities, as well as integration classes.
"The problem for many of the minors that arrive, is that they feel like they are wasting valuable time not doing anything" Dibenedetto said.
"All reception centers should have a culture mediator. They should offer minors opportunities to learn Italian, and they should make it easier for them to integrate into the Italian life", she says, arguing that this is one of the main "push-factors" for the minors leaving reception centers.
Eritreans and Syrians are normally the ones who leave first because they would want to keep travelling to join their family settled elsewhere in Europe. However, Egyptians tend to be the ones more commonly sent by relatives to earn money and send it back home.
Pressure from the family, in turn drives them to leave the centres before they are granted any sort of papers, as they become anxious and impatient, Di Benedetto said.