A 27-year-old Moroccan man died asphyxiated inside a suitcase after his brother tried to smuggle him into Spain in his car's trunk.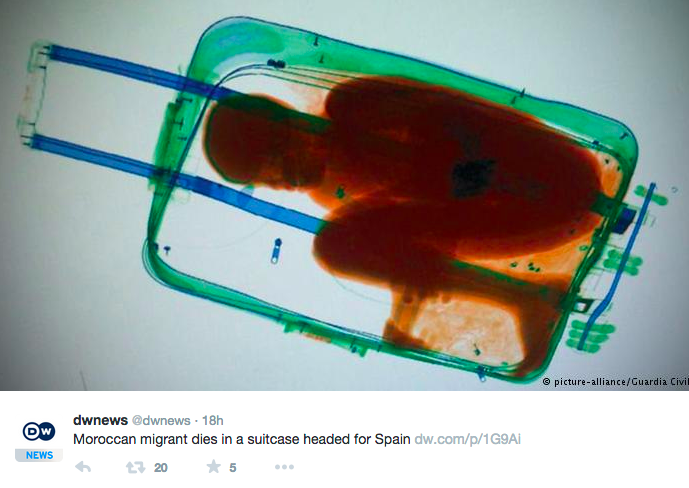 Spanish government officials said the man was trying to cross aboard a ferry from Spain's North African exclave of Melilla to the mainland city of Almeria.
When the ferry was nearing Almeria the stowaway's 34-year-old brother went to check on him and found him unconscious and he alerted the ferry staff. Crew members and paramedics tried in vain to resuscitate him.
The older brother, who is a French citizen, was arrested and charged with manslaughter but his identity or that of his brother were not released.
The attempt is not unique, in may an eight-year-old boy from the Ivory Coast was found curled up in a suitcase in Ceuta, Spain's other North African territory.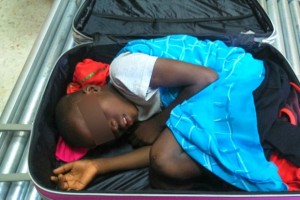 His father, who has legal residency status in Spain, was arrested in connection with the incident and is awaiting trial on bail on charges of illegal migration. He said he tried to smuggle his son in because he could not afford to pay for his residency.
The Spanish territories which are the EU's only land borders with Africa, attract thousands of migrants each year. 
Many migrants try to scramble over the seven-metre fences that separate  Ceuta and Melilla from Morocco while others try to swim or sail from shores on the Moroccan side.
Human Rights Watch estimates that at least 4,300 people entered the Spanish cities illegally in 2013, compared to 2,804 the year before.
In February last year, hundreds of people stormed the fence in Melilla in one day, with around 100 of them managing to force their way into the enclave.
However, the numbers dropped significantly from the peaks of the early 2000s after the launch of Operation Seahorse Atlantic was launched along with a pact between Spain, Portugal, Morocco, Mauritania, Senegal, Cape Verde Gambia and Guinea Bissau.