Prime Minister Matteo Renzi warned he could unleash Plan B on Europe after Austria and France threatened to push back migrants into Italy.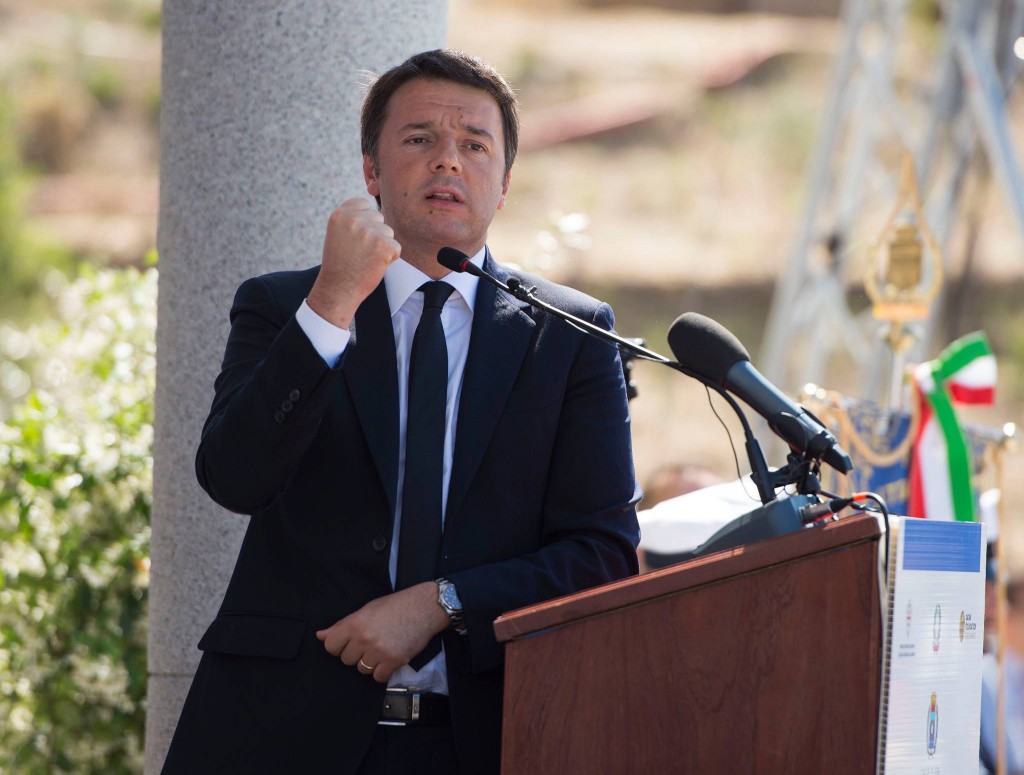 The two neighbouring countries have adopted a tougher stance at borders and train stations causing delays as the Austrian and French police enforce security due to the G7 conference.
His secret Plan B? as Renzi told the Corriere della Sera on Sunday: "In the coming days the European identity will be at stake and our voice will be heard loud and clear because it is the voice of a founding State. If the European Council will choose solidarity, that's good. If it won't, we have Plan B ready. But it would hurt Europe, first of all. We will give it our all so that there is a European solution."
Renzi is not known as a tough guy and his country maintains a lax control of migrants, many of whom are heading north to more favourable economic climates.
However, the 40-year-old centre-left Premier is under fire from many fronts on the subject of migration. On, he was on the warpath with leaders of the country's northern regions, who warned they were not prepared to take more asylum seekers.
"It's hard to seek EU help on migration when some regions in your own country say the problem has nothing to with them," he said.
So far this year, Italy has seen more than 50,000 migrants land on its shores, fleeing from instability in Libya.
Although under the Schengen system the EU allows free travel for citizens, police regularly check buses, trains and cars and return migrants back across the border from where they tried to travel.
The bloc's Dublin Regulations require that migrants must seek asylum in the country they landed in. Typically they are fingerprinted and detailed information is taken. However, Italy has deliberately not done this to allow migrants to move north and file claims in other countries. Italy claims it deals with too many migrants to fingerprint and properly document irregular migrants.
For instance, while 170,000 migrants arrived in Italy last year, only a third of those migrants asked for asylum in Italy. Similarly, of the 600,000 requests for asylum registered by migrants in the EU in 2014, half were for residence in Sweden and Germany.
At the same time part of the EU's plan to deal with the surge of migrants is to force 23 of the bloc's nations – the UK, Ireland and Denmark have exemptions – to accept 24,000 Eritrean and Syrian refugees from Italy and 16,000 from Greece.
But even countries that do not have an opt-out are refusing to comply with the proposal.
With conditions getting worse in Syria, Afghanistan, Eritrea, Libya and other regions, there is no reason to believe that the flow of people will slow down.
So What is Renzi's Plan B?
Since he took office in February, he has been dealing with a terrible economy, massive growing debt, strains on social services and the influx of migrants has not helped. It is in Italy's interest to both maintain control over the central Mediterranean via Mare Sicuro (Secure Sea), while effectively running an ad hoc version of Mare Nostrum through the expanded Triton operation, and maintain the fiction that Frontex is guarding the Southern European borders.
However, Italy's solutions to this phenomenon and the security situation in Libya have been inconsistent often confusing even close allies.
In February, the Renzi administration started drumming up the idea of a NATO peacekeeping mission in Libya to secure strategic sites and help fight the Islamic State (IS). However, by Mid-March that plan was abandoned, in part due to lack of backing from the US.
Then in April, a variation of that plan was offered again in the wake of the biggest single migrant tragedy at sea ever recorded, when 850 people drowned off Libya when their boats sank.
Renzi turned his guns on smugglers and proposed the bombing of key smuggler sites on the Libyan coast to key European allies. The idea of sending a peace keeping operation also made a re-appearance.
However, this plan too was dramatically watered down when it reached the European Union. The EU's own Foreign Affairs high Representative Federica Mogherini – who was Renzi's own Foreign Minister before taking up her present Brussels job – flatly ruled out both "boots on the ground" and bombing the Libyan coast.
As it stands now, Europe's plan of attack for smugglers looks like it will stop at arresting smugglers and seizing their boats if and when they get too close to EU military vessels.
Senior EU diplomats who spoke to Migrant Report said they were still trying to "figure out" what Renzi's Plan B consisted of.
"Is he going to suspend Italy's participation in the rescue mission? Will Italy stop taking in migrants?" the diplomat asked.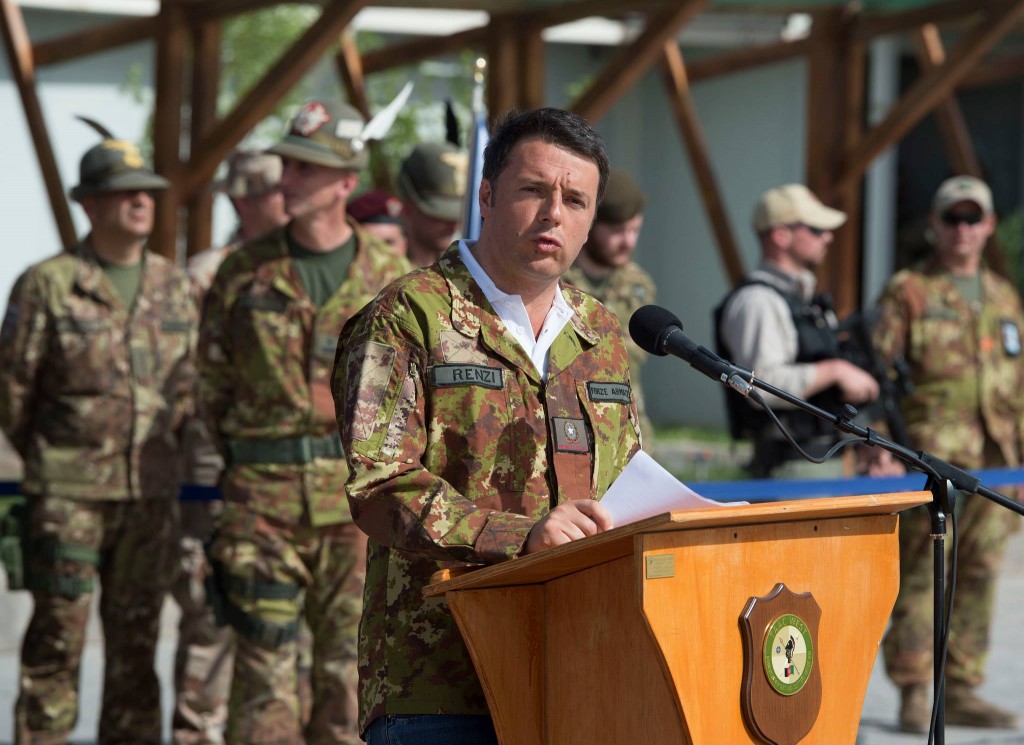 Is it All Just Empty Posturing? 
Renzi is fresh from a meeting in Moscow with Russian strongman Vladimir Putin. Putin is a master of issuing draconian threats.
This third meeting between the two leaders was supposedly to discuss Libya and the rapid expansion of IS, from Italy. Russia is a backer of Egypt which in turn backs the official Libyan government run by another strongman, General Khalifa Hiftar.
Egypt was the broker in providing $2 billion in Russian weapons to the Libyan government in February. "I am confident that the Russian Federation may play a decisive role in resolving the problem," Renzi said when he visited Putin in March.
Renzi has consistently maintained that the solution to the migrant problem in the Mediterranean is to resolve the problem in Libya. His flawed view that "warring tribes" were forcing people onto the seas does not explain the massive flow of migrants from peaceful regions across the Mediterranean.
Italy is only maintaining control of the migrant crisis by agreeing to disembarking virtually all migrants rescued in the central route on Italian soil at various reception centers across the country.
But in the meantime, the seas off Libya's hottest sending sites west of the country, is becoming crowded with German, Irish, British and private rescue vessels, as well as a fleet of Italian military and coastguard vessels.
Italy could hurt Europe by simply refusing to accept disembarkation of migrants forcing them either to other European countries, ideally the flag countries of the various Navy ships rescuing them or more controversially, returning them to Africa. Both would be highly contentious moves.
Matteo Renzi has said publicly that if no deal on burden sharing is reached, Italy may start issuing migrants with temporary visas allowing them the ability to travel throughout Europe. He also said he would stop the disembarkation migrants rescued  and turn back any successful migrants who make shore. The Rome rescue coordination center has the authority to direct ships to respond to a rescue and decides where those people are taken. The Italian Navy and Coast Guard  has taken on the burden of rescuing anyone in the central Med even though there is no official rescue program in place similar to last year's "Mare Nostrum" or Our Sea.  
Meanwhile, the optimistic idea that national reconciliation in Libya would start resolving the migration problem very far away.  When Renzi visited Washington to meet President Obama in April he insisted on "peace in Libya: either the tribes do this, or no one is going to do this".
Despite his country's economic woes, Renzi has insisted that Libya is the top threat to security, even going as far as o offer a UN peacekeeping role.   But in reality, after checking the results of Renzi's whirlwind tour of the world leaders, peaking into Italy's empty wallet and listing other empty threats. Renzi's  Plan B to "hurt" Europe may be more just empty posturing.