Reports, Security Beat
EU Anti-Smuggling Operation Moving to Phase Two: Intercepting Smugglers at Sea
EU Member states have given the green light for the bloc's military Mediterranean operation against people smugglers to go into second gear, which entails possibly boarding and seizing suspected boats, even arresting people.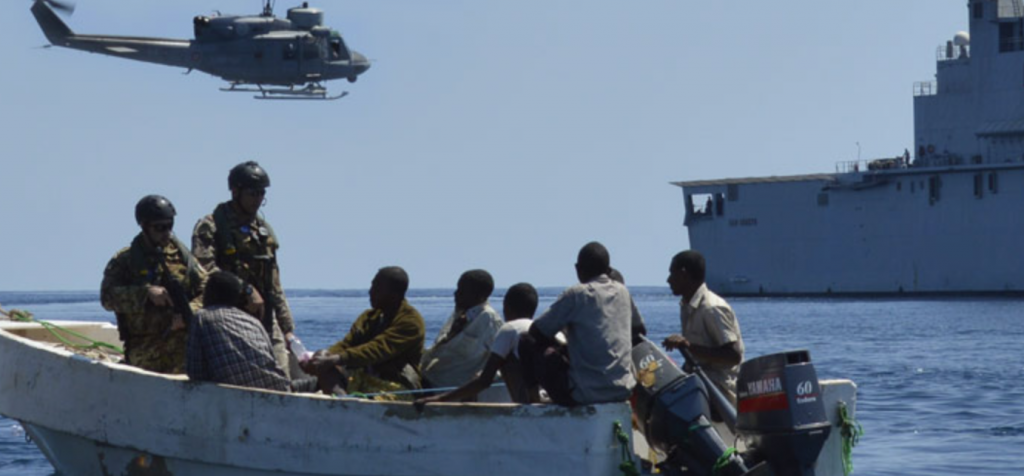 "This important transition will enable the EU naval operation against human smugglers and traffickers in the Mediterranean to conduct boarding, search, seizure and diversion on the high seas of vessels suspected of being used for human smuggling or trafficking, within international law," the EU Council said in a statement on Monday.
The first phase of the EUNAVFOR Med operation, launched in July, involved mostly intelligence gathering with support from the navies and intelligence agencies of several member states.
 The council said it had given its go-ahead for the first step of phase two following a positive assessment of the first phase in which the military objectives concerning collection and analysis of information were fulfilled.
The decision will be followed soon by a force generation conference and approval of rules of engagement for phase 2 on the high seas.
Once these rules are agreed and the Operation Commander indicates that he has the required assets, EU Ambassadors within the Political and Security Committee will decide when to launch the first step of phase 2.
The second phase will still restricts action in international waters.
The original idea behind the mission formulated by Italian Prime Minister Matteo Renzi, was to destroy the boats migrants travel on, intercept smugglers at sea, arrest them or even attack them on land in Libya.
However, the bloc had to scale down its ambitions since both the legally-recognised government in Tobruk, and the rebel administration in Tripoli reject the idea of a military intervention in their waters, let alone on land.
This is why, any action will be confined to international waters or 12 miles off the Libyan coast, with EU leaders hoping that an agreement could be reached for a joint operation with a prospective national unity government in Libya if and when a peace deal is agreed upon.
Given this limitation, effectively, EUNAVFOR Med will only be able to act on smugglers who venture out to try and recover empty boats after the people on board would have been rescued.
This normally takes place in a stretch of sea about 20 to 30 miles of Libya.