One hundred and eighty thee bodies were recovered form the shores of the coastal town of Zuwara in the wake of a tragedy that saw a boat with some 450 people capsize around five miles off shore last week.
Only 197 people made it out alive, which leaves up to 70 people unaccounted for.
The tragedy is the single biggest disaster within territorial waters known to authorities in Libya this year.
Members of the Libya Red Crescent and various organisations working in the sector mounted multiple operations in a stretch of sea between the town of Abu Kammash, near the Tunisian border, where the accident happened and further east, roughly near the Mellitah Oil and Gas facility.
'The Scale of What We are Talking About is Unbearable'
"We recover bodies practically every week but the scale of this tragedy is just unbearable," an LRC volunteer told Migrant Report.
At least two helicopters were employed in the recovery process because the scale of the operation was so big. "The day after the incident we collected more than 60 bodies from less than half a kilometre of beach. So many people's lives wasted away," he said.
Reporting from the town, BBC correspondent Quentin Sommerville on Friday said he came cross three bodies washed up on the beach in the space of 50 yards.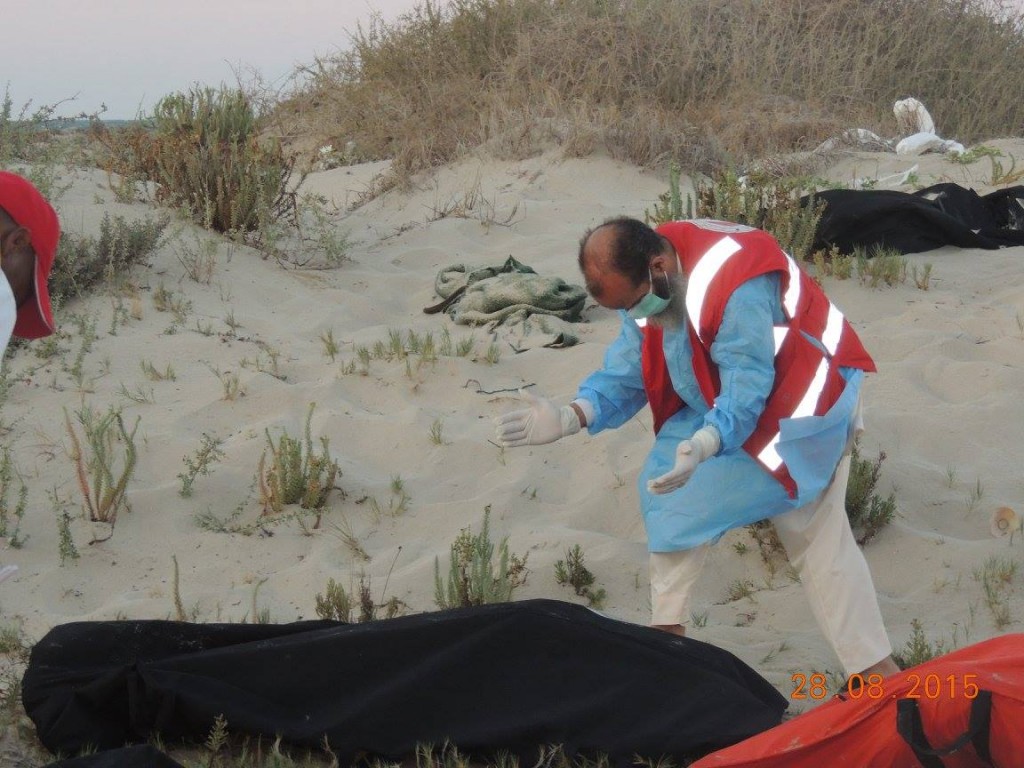 A volunteer with the Libya Red Crescent in Zuwara praying over the bodies.
Two boats capsizes off Zuwara in two days 26 and 27 August. One took place on Wednesday and involved a boat carrying around 40 people. Rescuers pulled out 25 people and three bodies but 12 people remain unaccounted for.
Then on Thursday the Zuwara coastguard responded to a second May Day this time involving a boat carrying an estimated 450 people.
According to information given from the municipality, the Libya Red Crescent and Zuwara police, in all 197 people were rescued alive. However the body count has now gone up from 117 to 183.
Survivors have now all been transferred to detention facilities in Tripoli, after first spending some time in nearby Sabratha. Among them are many people, including children, still coming to terms with the accident that nearly cost their lives.
The boats are believed to have capsized due to bad weather prevailing in the seas off Zuwara on these days.
Enough is Enough
Ibrahim Gibara, an official at the Zuwara local council said he interviewed a family from Syria, a father, a mother and their three year old son, who had lost their other son. Initially the mother was hoping he may have been rescued by European ships but hope has faded at this point.
He said that after Friday prayers on September 4, the municipality joined several local organisations in a demonstration against people-smugglers. "We are not a part of this and we want to show it," Gibara told Migrant Report.
The anger has lead to the unprecedented arrest of three Libyan suspected smugglers from the town of Abu Kammash, where the larger of the two boats that capsized is believed to have left from.
The three men, 21-year-old Alyasse Krshman, Ayoub Askeer, 32 and 26-year-old Nasem Azzbi, are being held by the Zuwara anti-immigration police. However, so far no charges have been brought against them.
It remains to be seen if the arrests, carried out after the men were identified by survivors, was merely a knee-jerk token action or part of a more sustained action. However, Gibara said this tragedy had ignited something in the local psyche.
As was the case with the response in Europe, where public debate was galvanised around the image of three-year-old Aylan Kurdi lying dead on a Turkish beach, Gibrara said similar photos from the bodies of children recovered in Zuwara had also caused an outrage.
"I feel the message that came out of the demonstration on Friday is that enough is enough. We mean it but we need outside help, Libya is not in a very good situation and we need all the help we can get," he said.